Do you feel like going for a 3K run? APAO Fund-raising Run is about to start! However, the format this year will be completely different. We move APAO Fund-raising Run ONLINE. You can run for a charity while staying healthy during the ongoing global pandemic.
Virtual Dates:
The virtual race starts at 2 August 2021. Runners need to complete a minimum of 3K run before 31 August 2021.
Upload Mileage:
Moving APAO Fund-raising Run online meaning that runners need to upload their running records to accumulate mileage. You can simply upload your record through the registration page by using use the below GPS-enabled mobile devices/apps to show the mileage gained, that must clearly included the date, distance, duration and route.

Participants have to record a minimum of 1K per upload. However, there is no limit on uploads throughout the event period. You are encouraged to take pictures of the beautiful scenery of the route, or photos of your good self and upload to us so that we can share the joy with the other participants.
The Organiser regrets that records from running machines/treadmills will not be accepted. All records should be submitted not later than 31 August 2021 23:59 GMT+8.
Registration:
The earliest you register, the more mileage you can accumulate. You can join the APAO Fund-raising Run at any time before 31 August 2021. You are required to complete the online registration form and settle the registration fee (US $30) online.
Prizes and Awards:
Participants are divided into four categories:
Young Ophthalmologists (aged ≤ 40)
Ophthalmologists (aged 41 – 64)
Senior Ophthalmologists (aged ≥ 65)
Non-Ophthalmologists
Participants who finished a minimum of 3K run with track record will receive a certificate. Prizes will be awarded in the following categories: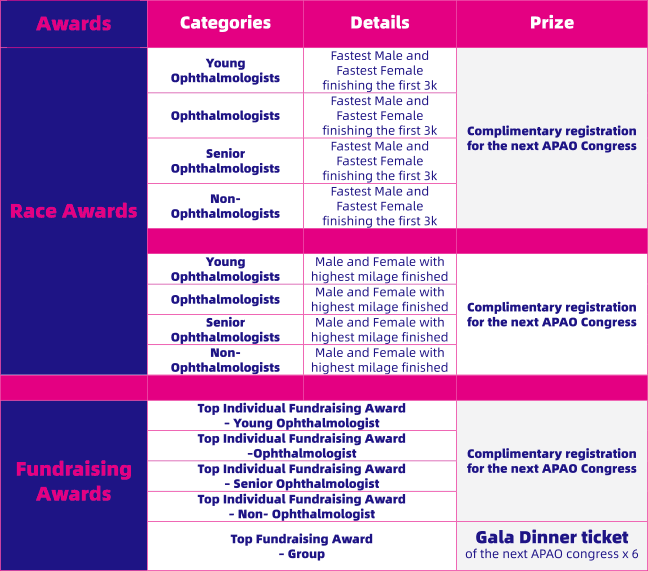 An iWatch SE will be awarded to runner who
i) finished his/her first 3k run in the shortest time,
ii) accumulated the highest mileage, or;
iii) raised the highest fund.
Riding on the 60th Anniversary of APAO, participants finished over 6K will received a special edition of certificate! We will announce the winners at the APAO 2021 Virtual Congress.
The Beneficiary
This year, all donations raised will be used to support one of the APAO standing committee – "AI & Digital Innovation Standing Committee". The proceeds will be settled by 30 September 2021. The objective of the AI and Digital Innovation Standing Committee is to support APAO and our member societies in the development and the use of AI tools to enhance the quality of eye care and to improve patient outcomes.